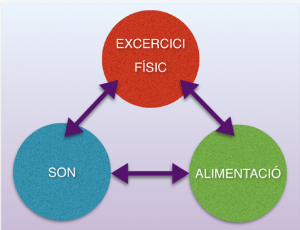 En una disciplina com el running -esport ancestral que representava el principal mètode de desplaçamet per a l'èsser humà juntament amb el caminar i esprintar- hi ha factors que se'ns poden escapar de les mans a l'hora que es produeixi una lesió, com per exemple, la superfície en la que correm, el calçat en males codicions, baixar l'atenció a l'hora de practicar-lo (perdre la tècnica, i l'atenció), etc…
Però n'hi ha d'altres que estan sota el nostre propi control, i un dels més importants és la qualitat dels nostres teixits.Una bona qualitat ajudarà a absorbir millor els impactes,  ajudarà a reaccionar ràpid davant situacions límit per a les nostres articulacions, i farà que el risc de lesions musculars, tendinoses i lligamentoses disminueixi considerablement.
Però, com podem aconseguir tot això fora de l'activitat física?
Doncs, sembla molt evident dir que, amb un entrenament adequat (fora de les hores i km que acostumem a sumar per a preparar-nos) i un estil de vida saludable, en el qual ens centrem en aquest article.
El nostre cos té un fucionament força complex i amb un munt d'interaccions internes, però si tenim en compte tres factors amb molt de pes, podem influenciar moltíssim sobre la nostra salut i qualitat del teixit. Es tracta principalment de les repercusions positives que tenen la SON, l'ALIMENTACIÓ i HIDRATACIÓ i l'ENTRENAMENT ADEQUAT.
Mentres dormim, el nostre cos treballa de valent en la reparació i desintoxicació de certes substàncies. I una de les claus és la melatonina, coneguda com a l'hormona de la son, ens ajuda a dormir, però també afecta factors importants per a la nostra salut (sistema immune, pressió arterial, funcions antioxidants…). Doncs, sopar massa tard, la llum artificial i dels aparells electrònics, fa que aquesta producció de l'hormona melatonina no sigui eficaç, frenant així funcions importantíssimes que el nostre cos realitza durant la nit per a poder funcionar bé durant el dia. Per això és tan important respectar les hores de son mentres és fosc, prendre el sol quan hi ha llum i no fer servir els aparells amb llum blava abans d'anar a dormir (el mòbil, ordinadors, tauletes i televisió emeten llum blava). Si patim transtorns greus de la son, és convenient tractar-los amb ajuda d'un metge especialista.
Pel que fa a l'alimentació, es podria parlar ampliament, ja que aquest és un concepte molt ampli i amb moltíssima informació a l'abast de tothom. Precisament aquest fet fa que, de vegades, l'excés d'informació sigui molts cops contradictori entre les diverses fonts. Cosa que ens complica molt la vida i, en ocasions, ens fa anar perduts. Però el que sí que farem és incís en el que coneixem, que és quins són els aliments que en més i menys presència hauríen d'estar a la nostra dieta per a, precisament, mantenir una bona qualitat de les nostres estructures i teixits.
La clau és menjar bones quantitats de verdura i fruita, suficient proteïna i greixos de qualitat,  hidratar-se adequadament, i evitar al màxim els menjars processats. Sembla fàcil oi? Doncs us convidem a provar-ho durant un mes i comprovar els seus beneficis de cara al rendiment. No respectar aquestes senzilles premises tan  a curt com a llarg termini pot comportar baix rendiment i lesions o malalties metàboliques (diabetis II, hipertensió, etc.).
No oblidem que el combustible que li donem al nostre cos és una de les claus! I l'ajuda d'un professional  dietista-nutricionista ens pot ajudar a assolir-la.
I si parlem d'entrenament i d'activitat física, sabem que el nostre cos ha d'estar entrenat i fort per a poder assumir tot el que comporta el dia a dia. Ha de ser capaç d'absorbir l'estrès de la vida diària, de ser àgil, resistent, fort, flexible, i poder pensar en bones condicions en situacions límit. I això no és fàcil si ens oblidem que, a part de la preparació física que es pot fer amb consciència i adequadament, hem de fer un manteniment i un treball durant el nostre dia a dia, alimentant-nos i descansant de manera correcta. Un és esportista mentre correm i durant els entrenaments, però també durant el dia i a la feina. Per assolir aquests objectius podeu adreçar-vos al vostre especialista en CAFE (Ciències de l'Activitat Físisa i Esport).
A més, és important no oblidar que aquests factors es retroalimenten l'un a l'altre, i tots estan connectats. En conclusió, si tenim més cura de respectar els nostres cicles i la nostra fisiologia, tindrem més salut, més capacitat i més rendiment. I com a conseqüència, minimitzarem el risc de lesió dels factors que podem controlar.

Belén Cuadro Uruñuela,
Fisiorunner
Fisioterapeuta Esportiva
Coach en Paleotraining®
BCU [fisioteràpia avançada]
Medicina Funcional
Especialista en Teràpia Miofascial
Bibliografia:
– Helen J. Burgess and Thomas A. Molina. Home Lighting Before Usual Bedtime Impacts Circadian Timing: A Field Study. 2014
– Sophie M.T. Wehrens, Skevoulla Christou, Cheryl Isherwood, Benita Middleton, Michelle A Gibbs, Simon N. Archer, Debra J. Skene, and Jonathan D. Johnston. Meal Timing Regulates the Human Circadian System. 2017
– Lameese D. Akacem, Kenneth P. Wright, Jr., and Monique K. LeBourgeois. Bedtime and evening light exposure influence circadian timing in preschool-age children: A field study. 2016
– Abraham Haim and Abed E. Zubidat. Artificial light at night: melatonin as a mediator between the environment and epigenome. 2015.
– Lameese D. Akacem Kenneth P. Wright Jr. Monique K. LeBourgeois. Sensitivity of the circadian system to evening bright light in preschool-age children. 2018
– YvanTouitou, AlainReinberg, DavidTouitou. Association between light at night, melatonin secretion, sleep deprivation, and the internal clock: Health impacts and mechanisms of circadian disruption. 2017
– Joanne Slavin. Fiber and Prebiotics: Mechanisms and Health Benefits. 2013.
– Balstad TR, Carlsen H, Myhrstad MC, Kolberg M, Reiersen H, Gilen L, Ebihara K, Paur I, Blomhoff R. Coffee, broccoli and spices are strong inducers of electrophile response elementdependent transcription in vitro and in vivo – studies in electrophile response element transgenic mice. 2011
– Lukas Schwingshackl, Georg Hoffmann, Tamara Kalle-Uhlmann, Maria Arregui, Brian Buijsse, and Heiner Boeing. Fruit and Vegetable Consumption and Changes in Anthropometric Variables in Adult Populations: A Systematic Review and Meta-Analysis of Prospective Cohort Studies. 2015
– Phillips SM, Van Loon LJ. Dietary protein for athletes: from requirements to optimum adaptation. 2011
– R. Rizzoli, E. Biver, J.P. Bonjour, V. Coxam, D. Goltzman, J. A. Kanis, J. Lappe, L. Rejnmark, S. Sahni, C. Weaver, H. Weiler, J.-Y. Reginster. Benefits and safety of dietary protein for bone health—an expert consensus paper endorsed by the European Society for Clinical and Economical Aspects of Osteopororosis, Osteoarthritis, and Musculoskeletal Diseases and by the International Osteoporosis Foundation. 2018.
– Wycherley TP, Moran LJ, Clifton PM, Noakes M, Brinkworth GD. Effects of energy-restricted high-protein, low-fat compared with standard-protein, low-fat diets: a meta-analysis of randomized controlled trials. 2012.
– Khaw KT, Sharp SJ, Finikarides L, Afzal I, Lentjes M, Luben R, Forouhi NG. Randomised trial of coconut oil, olive oil or butter on blood lipids and other cardiovascular risk factors in healthy men and women. 2018.
– Dreher ML. Pistachio nuts: composition and potential health benefits. 2012.
– Siri-Tarino PW, Sun Q, Hu FB, Krauss RM. Meta-analysis of prospective cohort studies evaluating the association of saturated fat with cardiovascular disease. 2010.